With 222 days of sunshine a year and so many other benefits to living here, it's not surprising the Salt Lake area attracts so many retirees. If you are searching for the best 55+ communities in Salt Lake City, you'll discover a number of different options. Knowing where to find the best 55+ communities in the area will boost your ability to choose the right place for you.
What is a 55+ Community? 
Salt Lake City over 55 communities are designed for people who are 55 years old and beyond. Within this age-restricted housing program, individuals can enjoy living among their peers and maintain an active lifestyle. Many people enjoy getting away from the loud parties and noises of young people and children, making these developments even more welcome.
Along with living among peers, the most popular 55+ communities in Salt Lake City also have amazing amenities for their residents. Some communities even include continuing care programs, so residents can remain in the same community as they progress through their golden years as needs arise.
Benefits of Living in a 55+ Community
When you live in the best 55 and older communities in Salt Lake City, you can expect a few common benefits. In the most luxurious communities, you won't have to do any work to take care of yourself. The more luxurious retirement homes handle day-to-day activities like cooking and cleaning, so you don't have to.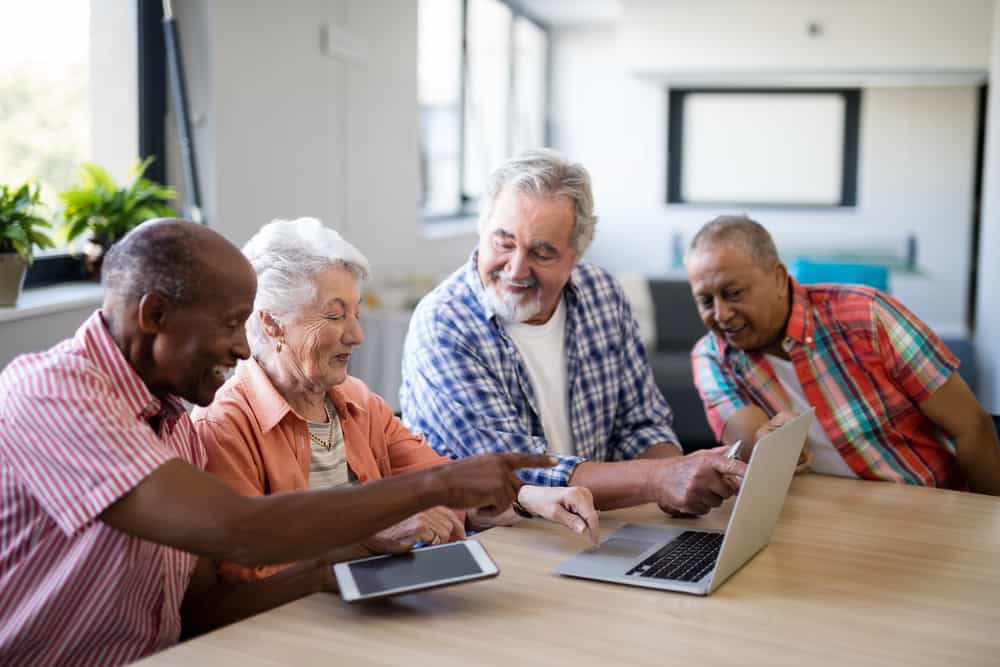 Depending on which affordable senior adult community in Salt Lake City you choose, you can also enjoy amenities like swimming pools, sun decks, community gardens, tennis courts, and personal patios. Designed with resort-style amenities, these high-end Salt Lake City active adult communities also offer group classes and social programs as well.
Along with enjoying the peace and quiet of living around fellow seniors, residents will also discover a close-knit community of like-minded people. Residents can take part in planned activities like art classes, yoga, dance classes, and tai chi. Because these programs are offered on-site, they are easy to take part in and a great way to spend your free time.
8 Best 55+ Senior Living Communities in Salt Lake City
1. Legacy Village of Sugarhouse – Top-rated 55+ Community in SLC
While seniors will love Legacy Village of Sugarhouse's independent living options, there's another benefit of living here. As seniors age, they can remain at Legacy Village because of the additional assisted living and memory care programs. In this top Salt Lake City active retirement community, you can rent one of the 10 different floor plans for your new, private residence.
Website:

https://legacyvillagesugarhouse.com/

Phone:

801-486-6000

Amenities:

24-hour emergency call system, safety features like grab bars, housekeeping, fitness classes, fully ADA compliant, personal transportation
2. Chateau Brickyard – Enjoy Resort Living at this SLC Retirement Community
For resort-style features, Chateau Brickyard is one of the best 55+ communities in Salt Lake City. The 107 apartments are offered in studio, one-bedroom, and two-bedroom layouts. Situated near the Brickyard Plaza shopping area, this active community boasts lots of activities such as a fitness center, outdoor excursions, and social gatherings.
Phone:

(801) 466-9999

Amenities:

Executive chef on staff, well-appointed apartments, a continuum of care, outdoor activities at local parks, and social activities.
3. Highland Cove Retirement Community – Salt Lake City Independent Living
Highland Cove Retirement Community is one of the top Salt Lake City retirement communities for independent living. Within this resort-style community, residents can enjoy elegant surroundings, senior-centered services, and a 24/7 security response team. Residents can also enjoy relaxing while staff members handle housekeeping chores, landscaping, and cooking meals.
Phone:

(801) 272-8226

Amenities:

Three restaurant-style meals served daily, acres of gorgeous grounds, wellness center, 24/7 security response team, scheduled transportation, and a library.
4. The Wentworth at Parklane – Securely Gated Senior Living in Salt Lake
When it comes to the best gated retirement communities in Salt Lake City, the Wentworth at Parklane is bound to please. This highly-rated community uses a holistic approach to support the senior's mind, body, and spirit. Within this active independent living community, residents can enjoy musical performances, educational activities, cultural events, and Friday Happy Hours.
Phone:

(801) 872-8617

Amenities:

Movie theater, atrium restaurant, private and semi-private rooms, personalized laundry services, restaurant-style dining, on-site salon, fitness center, and housekeeping services.
5. All Seasons – A Popular Place to Live for People Over 55
While many of the best 55+ communities in Salt Lake City consist of rental units, All Seasons offers a 55+ mobile home community. The pet-friendly property is close to local shopping and dining options. Plus, the community provides plenty of organized events to help new members adjust and meet their neighbors.
Phone:

1-800-274-7314

Amenities:

Activities, swimming pool, billiards, clubhouse, fitness center, on-site management, and a pet-friendly policy.
6. Olympus Ranch – Local 55+ Independent Senior Living
As an award-winning retirement community in SLC, this independent living home is surrounded by breathtaking views and convenient shopping options. Active seniors can pick a la carte from personal care providers and health care providers. Plus, many of the providers have offices set up within the community, so residents can stay independent for years to come.
Address:

971 E 5600 S, Murray, UT 84121

Phone:

Call 801-998-2672

Amenities:

On-site beauty salon and barber, bistro area, fitness equipment, game room, chapel, computer room, and billiard lounge.
7. Pacifica Senior Living Millcreek – Great 55+ Living in SLC
If you want a Salt Lake City senior adult community with a month-to-month lease, Pacifica Senior Living Millcreek is a good place to check out. Featuring a continuum of care, this award-winning community offers life-enrichment activities and a range of added services. Designed to be wheelchair accessible, this community boasts amenities like lively lounge areas, fun social programs, and a pet-friendly rental policy.
Phone:

(801) 639-9120

Amenities:

Chef-prepared meals, arts and crafts center, free parking, devotional services on-site, grocery shopping service, full-time nurse on-staff, and raised gardening beds.
8. Capitol Hill Senior Living – Comfortable Amenities for 55+
Like many of the best Salt Lake City retirement communities, Capitol Hill Senior Living offers resort-style amenities and full services. Residents are protected through the 24-hour staffing and emergency response features. As an added benefit, residents at Capitol Hill Senior Living can enjoy having some of the most spacious studio and one-bedroom apartment units in all of Salt Lake City.
Address:

76 S 500 E, Salt Lake City, UT 84102

Phone:

(801) 359-0050

Amenities:

Daily activities, complimentary laundry facilities, dining open all day, barbershop and beauty salon, daily activities, gym and spa room, and a computer room.
Map of the Best 55+ Communities in Salt Lake City, UT
Ready to Choose the Best SLC 55+ Community for You?
Whether you are looking for the perfect 55+ communities in Salt Lake City for yourself or for a loved one, the right home is out there. In order to find the right location, you have to know what you are looking for. Before you pick a new residence, ask yourself some of the following questions.
How favorably does the community's price relate to your expected retirement income?

Is the location of the 55+ community in the right place?

What kind of amenities do you absolutely need? Which ones will you really use?

Do you plan on buying or renting your future home?
Once you know what you want, it is easier to narrow down your list of potential homes to the right one.
If you need help with an upcoming relocation, look no further than the experienced Salt Lake City movers here at Wasatch Moving Company! Give us a call today at (801) 758-0030 or complete the Request a Quote form at the top of this page for a free moving estimate!