Surrounded by mountains in northeast Utah is the state's capital, Salt Lake City. Famous as the headquarters of the Church of Jesus Christ of Latter-day Saints (LDS Church), it's a common misconception that Salt Lake City is only a great place to live for Mormons. In fact, the city is more liberal than you may think and the Mormon community is just under half the population in the metro area. SLC is the best place to live in Utah for non-Mormon families, singles, and young professionals with many great neighborhoods no matter what you're looking for.
Ready to find the best place to live in Salt Lake City? Here's a look at the most exciting Salt Lake City neighborhoods whether you're looking for a hip, walkable place to live or a quiet, family-friendly community.
Best Neighborhoods in Salt Lake City
Salt Lake City is a true melting pot and perhaps the best place to live in the state of Utah. Though it's the state's most populous city, it provides residents with a suburban experience as well. This Salt Lake City neighborhood guide will cover the best Salt Lake City communities to explore with a wide variety of lifestyle and housing options.
The Avenues – One of the Most Liberal Neighborhoods in Salt Lake City
Population: 15,864
Median Home Price: $777,000
Great for: Professionals and families
Situated on the northeast end of the city, The Avenues is Salt Lake City's first official neighborhood. Its proximity to downtown, access to public transport, and artsy vibe make the area popular with young professionals looking for an easy commute and access to amenities. It's also one of the most liberal areas in Salt Lake City and a top pick for living in Salt Lake City as a non-Mormon with one of the lowest concentrations of LDS residents. The Avenues is home to the city's historical district, the beautiful Cathedral of Madeline, and the vast Salt Lake City cemetery where many historic SLC individuals are buried. Residents looking for outdoor recreation can take advantage of Lindsey Park and the City Creek Canyon Trail. Though largely residential, The Avenues boasts a thriving art scene and lots of interesting shopping.
Families love The Avenues for its low crime, great schools, and fantastic amenities. Summer concerts are held at Brigham Young Historic Park while the Northcrest Swim Club offers swimming lessons, swim teams, and water aerobics classes for the community.
Downtown Salt Lake City – One of the Best Places to Live in Salt Lake City for Young Professionals
Population: 3,500
Median home price: $427,000
Great for: young professionals, singles, and millennials
Centered around Temple Square, Downtown SLC is one of the most exciting areas of Salt Lake City! This ultra-walkable community is always bustling – but never feels overcrowded. There are many new developments planned for the downtown neighborhood expected to triple the population in coming years. While fewer than 4,000 people live in the neighborhood, over 70,000 people work in downtown Salt Lake!
Downtown is one of the best places to live in Salt Lake City for luxury apartment or condo living and walkability without sacrificing the relatively affordable cost of living in Salt Lake City. As an added perk, downtown is part of the free fare zone so public transportation is free within the district for a fast, easy, and free commute to work in the business district whether you walk or take the train. Learn more about the free fare zone in our guide to SLC public transit!
There's also plenty to do in downtown Salt Lake City from bars and restaurants to entertainment options like the Brewvies Cinema Pub, concerts at The Complex, and the Gateway shopping center.
View this post on Instagram
Yalecrest – One of the Richest Neighborhoods in Salt Lake City
Population: 4,142
Median Home Price: $1.07 million
Great for: Families and students
Yalecrest, a safe, affluent SLC neighborhood just southeast of The Avenues, is possibly the most sought-after area in Salt Lake City. This is one of the best neighborhoods in Salt Lake City for families. Also known as the "Harvard-Yale area," this neighborhood is known for its tree-lined streets and beautiful architecture. House hunters can expect to find beautiful homes in the English Tudor and Cottage styles. The area was placed on the National Register of Historic Places in 2007, and the care that is put into the area is palpable. Aesthetics aren't the only draw though. The highly rated Uintah School at Yalecrest's southern border is ranked among the top 20 elementary schools in Utah. Families with children will love the playgrounds and fields at Laird Park. Nature lovers will feel right at home hiking along the beautiful Red Butte Creek that runs through the neighborhood, and the Miller Bird Refuge and Nature Park is a fantastic place to spend a day!
Wasatch Hollow – Among the Safest Neighborhoods in Salt Lake City with Beautiful Scenery
Population: 3,504
Median Home Price: $972,500
Great for: Young/active families and nature lovers
Directly below Yalecrest is the small, family-friendly neighborhood of Wasatch Hollow. This neighborhood is perhaps best known as the location of the beautiful Wasatch Hollow Preserve and park. This 11-acre oasis is filled with wildlife, trails, and meadows surrounding Emigration Creek which flows throughout. Wasatch Hollow is extremely safe, with a crime rate that is 68% lower than the rest of Salt Lake City.
The neighborhood is served by exceptional schools, and students that live in Bonneville Hills earn test scores that are 42% higher than the national average. It's also one of the safest Salt Lake City neighborhoods!
Bonneville Hills – Popular Salt Lake City Neighborhood for Families with an Urban Vibe
Population: 3,840
Median Home Price: $903,000
Great for: Active families and renters
Directly east of Wasatch Hollow is Bonneville Hills. It's one of the top Salt Lake City neighborhoods with something for everyone: walkability, low crime, great schools, and plenty of amenities. Though Bonneville Hills has a more sparse suburban feel, it's still very walkable and dog-friendly with lots of amenities within reach. Almost one-third of Bonneville Hills households are home to school-aged children, which is no surprise since the schools, like Bonneville Elementary School and Beacon Heights Elementary, are highly rated. If golf is your game, you'll be in heaven living so close to the beautiful Bonneville Golf Course! If you're looking to rent, Bonneville Hills is a great option – rentals are almost 20% less expensive in this Salt Lake City neighborhood than surrounding ones.
Central City – One of the Coolest Neighborhoods in Salt Lake City
Population: 9,633
Median Home Price: $417,500
Great for: Young adults, young families, and outdoor enthusiasts
Looking for fun, cool neighborhoods in Salt Lake City? You'll love Central City, a picturesque neighborhood that feels like a college town yet offers the amenities and space families are looking for. Easily one of the best neighborhoods in Salt Lake City for young adults and young, active families, Central City is centered around the Gilgal Sculpture Garden and Liberty Park with pools, playgrounds, and walking paths. It's a popular base for outdoor enthusiasts with plenty of shops geared toward bicycling, hiking, and mountain biking. It ranks high among SLC neighborhoods for foodies with an exciting number of ethnic cuisine options!
Sugar House – Popular Salt Lake City Gay Neighborhood & One of the Best Neighborhoods in SLC for Young Adults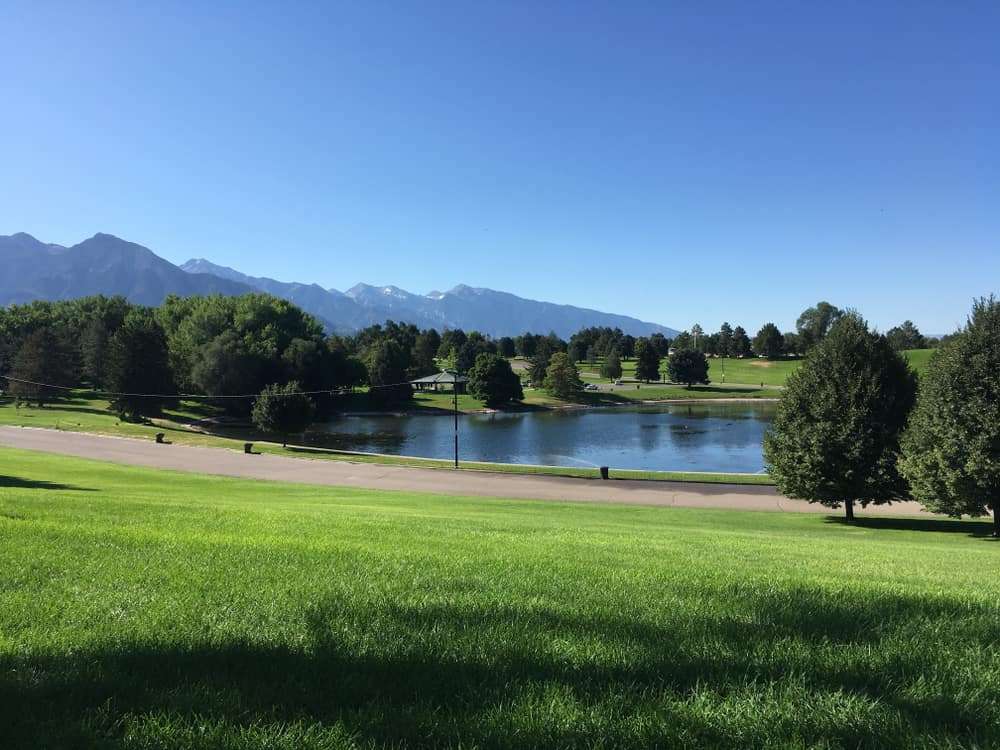 Population: 30,976
Median Home Price: $610,000
Great for: Young families, students, and singles
It's impossible to be bored living in Sugar House! This large, trendy, and vibrant neighborhood at the southeast end of Salt Lake City is buzzing with activity. While its proximity to Westminster College brings a younger crowd to the area, Sugar House is also popular with young families and long-time residents. It's also one of the best gay neighborhoods in Salt Lake City. It's a very welcoming place that is diverse and safe. The tree-lined streets are extremely walkable, and they line the properties of beautiful bungalows and historic Victorian homes. The neighborhood is home to two shopping centers and lots of locally owned stores and eateries.
Families and nature lovers take advantage of the sprawling Sugar House Park, which runs through the heart of the neighborhood. This beautiful 100-acre expanse is great for walking, biking, organized sports, or people watching! There are also three golf courses in the neighborhood. Golfers can take their pick from the Nibley Park Golf Course, Forest Dale Golf Course, and The Country Club. The Dilworth School is a great option for kids in grades K-6!
It's easy to see why Sugar House ranks highly as one of the best neighborhoods in Salt Lake City for young adults, families, and LGBTQ+ residents with one of the fastest-growing populations in SLC!
Rose Park – One of the Most Diverse & Affordable Salt Lake City Neighborhoods
Population: 10,884
Median Home Price: $430,000
Great for: Young families and home buyers
Rose Park sits at the northwest corner of Salt Lake City. Rose Park is considered one of the most ethnically and religiously diverse areas of not just Salt Lake City, but of the entire state of Utah. The demographics of the neighborhood are 44.7% white, 42.6% Hispanic, 2.7% Black or African American, 4.6% Asian, and 5.3% two or other races. Rose Park is known for its affordability, easy commute to downtown, and wide array of amenities. Rose Park residents enjoy easy access to two golf courses, parklands and community gardens, a public library, and several churches. The affordability of homes and great public schools make this area great for young families and first-time home buyers!
Salt Lake City Neighborhoods Map
If one of these top-rated Salt Lake City Utah neighborhoods sounds like your next home, we'd be happy to help you move here! Call our highly rated Salt Lake City moving company to get your free quote today. We'll get you settled into your new home or business with the utmost of care.