Utah is known for many unique things across the state. It is home to five national parks, the Sundance Film Festival, the central hub of The Church of Jesus Christ of Latter-day Saints, what some consider the greatest snow and skiing spots on earth, as well as some great places to live.
While these things all tend to stand out, there is one more thing that most people recognize about the state. And that is the Great Salt Lake.
This giant body of water has been around for thousands of years and has a truly fascinating history and geography. Every year hundreds of thousands of people visit the area's state park and its lake.
Here are seven of the most interesting facts about the Great Salt Lake, where it came from, local wildlife, and fun things to do nearby.
1. Salt Lake History
Scientists predict that a large body of water they dubbed as Lake Bonneville dried up over 14,500 years ago, leaving behind smaller remnants of water including the Great Salt Lake. When it was at its full size, dating it all the way back to the Pleistocene Era, Lake Bonneville covered most of what is now western Utah. Once it was dry, the lake left behind some remarkable landscapes, including the Bonneville Salt Flats.
The Great Salt Lake has stood the test of time thus far thanks to its three main inlets: the Weber, Bear, and Jordan rivers. Due to its shallow nature, the lake's size can drastically change during the year depending on how wet the rainy season has been.
2. On the Map
Anyone looking at a map of Utah would be able to pick out the Salt Lake in a split second. Its sheer size dwarfs any other body of water on the western side of the country. It starts near the northernmost part of the state and makes its way gradually in a southeastern direction.
Covering many miles, the lake sits near numerous large Utah cities on its eastern side such as Logan, Ogden, Layton, Bountiful, and of course, Salt Lake City. While on the western side of the lake, you'll find little to nothing for nearly 100 miles (other than the Salt Flats) until you reach the Nevada border.
3. How "Great" Is It?
Any questions about the actual size of the Great Salt Lake are typically difficult to answer due to how much it can change over the course of a year. It is the largest body of water in the United States after the Great Lakes near Michigan and the Canada border.
With an average depth of only 14 feet, it doesn't take much to adjust everything from its volume to its width and length. But on average, the lake is about 75 miles long from north to south and about 28 miles at its widest point from east to west.
The water surface typically rests at an altitude around 4,200 feet, with its deepest spot reaching an average of about 33 feet. Once again depending on how much it has rained that year, there are typically around 5 trillion gallons of water in the lake at any given time.
4. Let's Talk Salt
It's not called the Great Salt Lake for nothing. This large body of water has a varying salinity between 5% and 27% based on how full it is at the time. This places it among the top ten saltiest bodies of water in the entire world.
To put this into perspective for you, if you've had the chance to visit either the Pacific or Atlantic coast, the highest salt concentration in any major ocean is 3.5%. Ever tasted ocean water by mistake? Imagine how much more salty 27% salinity would taste.
This high of a concentration makes for some fun in the water though. Because of the density, if you wade out into the lake and lay down, you will end up floating effortlessly on top of the water.
5. Wildlife in and Around the Lake
Unfortunately, not many aquatic creatures can survive in such a high concentration of salt water so you won't find many living creatures in the lake itself. There are no fish in the Great Salt Lake. But what you will find living in the water are a few types of algae, as well as small brine shrimp. The shrimp have created a fairly large local industry as they are harvested seasonally and sold all across the world as prawn food.
Apart from that, you won't find a whole lot of wildlife around the lake since other animals can't depend on the salty lake for drinking water. Occasionally you'll see gulls and other migratory birds that come to feast on brine flies. These flies tend to gather around the edge of the lakeshore and have been estimated with a population of over one hundred billion in the area.
6. A Train on the Water?
If you look at an aerial view of the Great Salt Lake, you may feel for a moment that you're looking at two separate bodies of water. While the southern side has a fairly standard blue-green lake color, the northern part has a distinct pink hue to it. This is due to a railroad project that began all the way back in the early 1900s.
In 1904, the Southern Pacific Railroad route was shortened by 40 miles when tracks were built straight across the lake. While the initial wood structure allowed water to flow freely underneath, the maintenance costs became too great, leading the railroad company to replace it with a solid rock causeway instead.
With the flow between the north and south restricted, the north side of the lake became much saltier than that of the south, leading to the growth of red algae which caused the pink color to appear. But within the past couple of years, a breach was created between the two sides in an attempt to regulate the free flow and water levels.
7. Best Things to Do There
You'll find a wide variety of fun activities to enjoy surrounding this fun area. If you're still wondering if you can swim in the Great Salt Lake, the answer is yes. As we mentioned before, the salt level will cause you to comfortably float on the surface with nothing but a few rice-sized brine shrimp to keep you company. Bridger Bay Beach is one of the most popular spots for swimming, picnics, and lounging on the soft sand.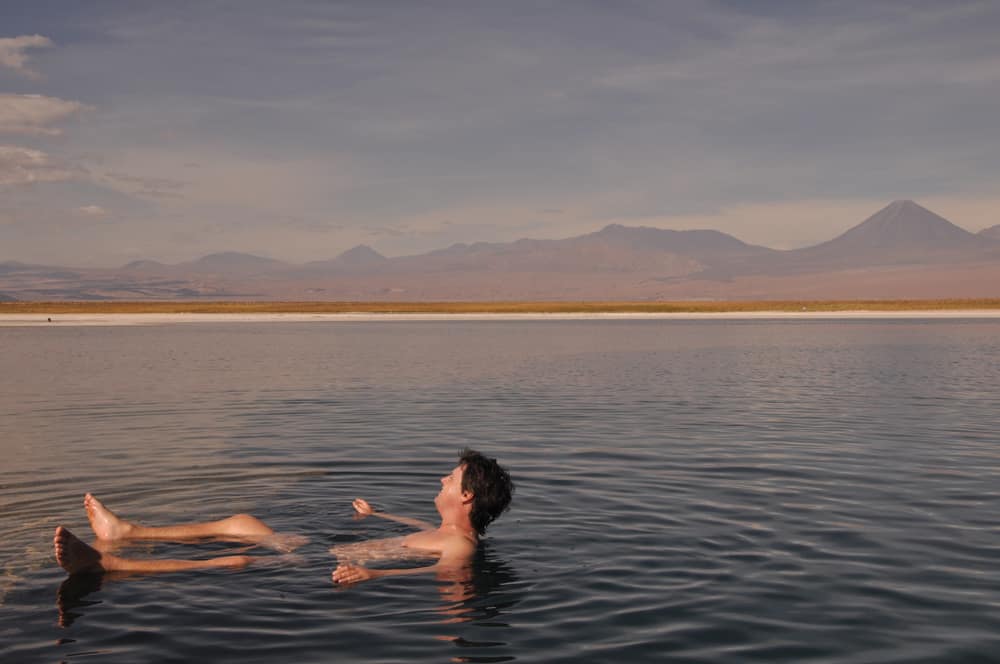 Many visitors enjoy paddleboarding and kayaking on the lake for both recreation and exercise. Others take out their sailboats or go with loved ones on a romantic dinner cruise.
A great stop for a day visit is Antelope Island, where you can go horseback riding, hiking, and even head a bit further inland for a possible glance at some free roaming buffalo.
Moving to Salt Lake City?
Are you thinking of moving to the city that gets its namesake from this remarkable lake? Salt Lake City is home to a great community of people. The area also offers many great job opportunities for local professionals, as well as many close-knit, family-oriented neighborhoods.
If you're planning on making Salt Lake City your home soon, the team here at Wasatch Moving Company would love to help you! We provide high-quality, professional moving services covering every need and specialty.
Learn more about what we can do for you by giving us a call today at (801) 758-0030. If you'd like a free moving estimate, you can also fill out the Request A Quote form at the top of this page.