As the fourth fastest-growing city in Utah County, there must be something special about moving to Eagle Mountain. With a breathtaking view of Utah Lake and an easy drive to Salt Lake City, it's easy to balance rural living with city access. Additionally, affordable home prices combined with ample room to develop your property are just a handful of the reasons to relocate to Eagle Mountain. With one of the lowest population densities in the region, residents can spread out and enjoy the town's many parks and recreational activities and travel to nearby towns for plenty of businesses to explore and enjoy.
Even though Eagle Mountain is one of the youngest communities in Utah, the land hosts plenty of history. The Pony Express is known for having gone through Eagle Mountain and even guides the theme of the town's annual summer festival. With an abundance of children and plentiful school selection, living in Eagle Rock is becoming a popular place to raise children.
Who Lives in Eagle Mountain?
Eagle Mountain population is on the rise. As new home developments pop up every day, the community welcomes more families, young professionals and retirees to enjoy the stunning scenery. The city currently hosts about 26,219 people, but Eagle Mountain population growth saw an astonishing 4.72% increase between 2015 and 2016, a huge leap for such a rural community.
A young, fresh energy drives the growth of the city and its expansion. With a median age of only 20 years old, stats show that most people moving to Eagle Mountain are bringing young children with them. Though Eagle Mountain's demographics are mainly caucasian, more than 7% of the community has a Hispanic background, with 5% of the town speaking Spanish.
High Pay, Low Cost of Living
Though only about 10,000 of the jobs in Eagle Mountain come from within the city limits, the area has a higher median household income than the county or even the state. This high-income rate pairs well with affordable housing in most of the neighborhoods, with home values balancing at around $219k. Rent is particularly high for the area, though only 15% of residents do not own their homes in Eagle Mountain. For these reasons, the town is rated one of the top places to buy a home in Utah.
Property taxes in Eagle Mountain are also quite low, primarily ranging between $800 and $1500, significantly lower than the national average. This further speaks to the housing opportunities in the area, especially for first-time home buyers with big families. Though the population density of the town is quite low, Eagle Mountain has some of the largest families per household in the county.
Eagle Mountain Neighborhoods
Set just to the west of Utah Lake and only about an hour's drive south of Salt Lake City, the area spans across over 40 square miles. Despite being undeveloped compared to its surrounding towns like American Fork and Lehi, the town has a growing number of festival and activities each year.
One of the Eagle Mountain neighborhoods most popular for housing and activities is known as The Ranches. This development sits on the edge of a luxury golf course and club and features large new homes with expansive yards. City Center is known for offering less-expensive homes, but not having as great access to amenities.
Being such a new city, Eagle Mountain neighborhoods are still taking shape, making this an exciting time to settle down and join in the city's development.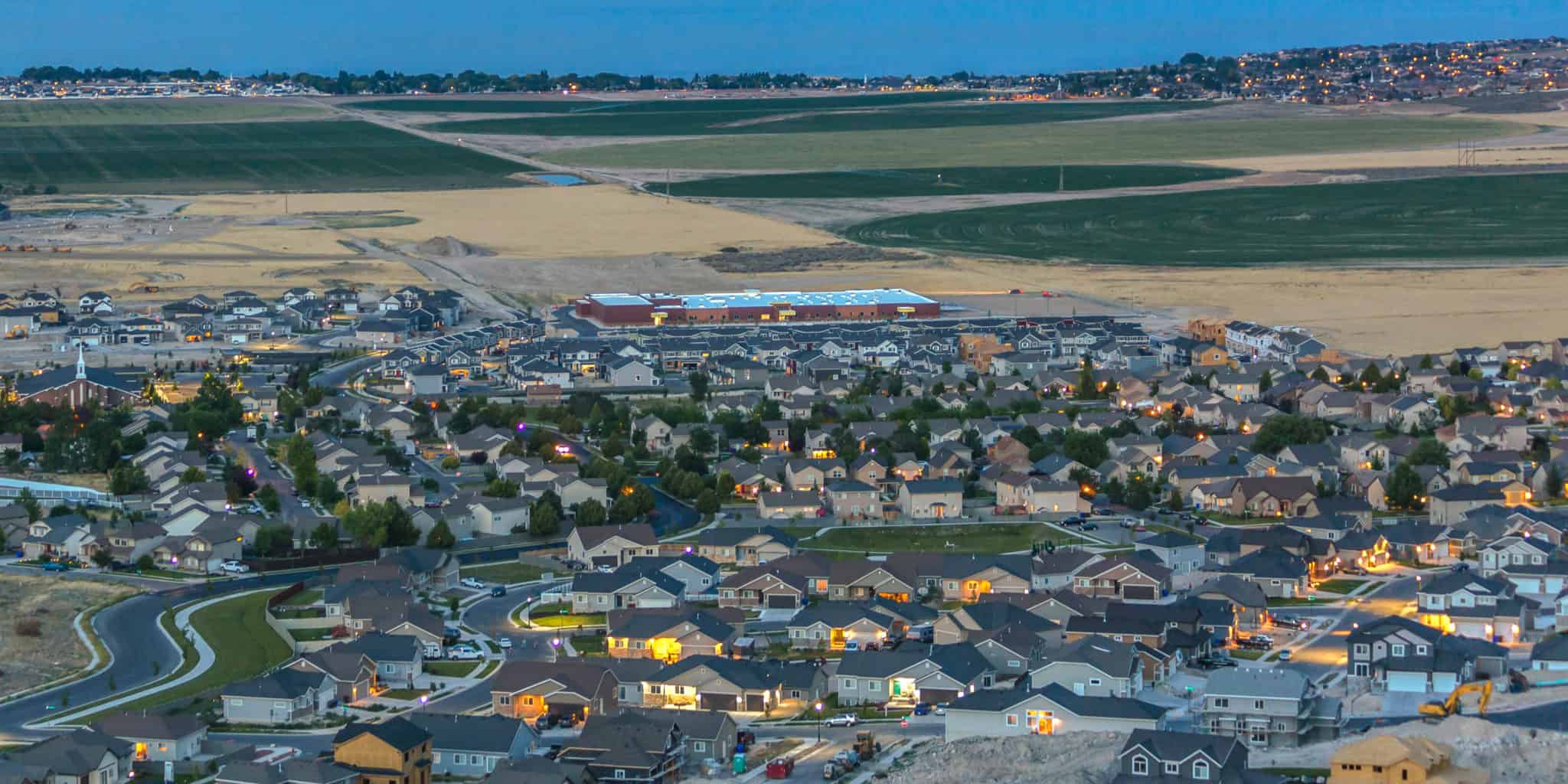 Eagle Mountain Weather
Eagle Mountain proximity to ski country means you can expect snowy winters and temperate summers. In the winter, the area gets an average of 39 inches of snow, compared to the 26 inches for the national average. Temperatures are pretty standard for the Northwest, with heat never rising too far above 90 in the peak of summer and dipping to the teens in the colder months. Overall, your Eagle Mountain forecast is almost always quite comfortable between its low humidity and mild temperatures.
Fun Things to Do in Eagle Mountain, UT
Even as a new community, Eagle Mountain hosts plenty of things to do as a family and with the kids. From Memorial day to the first days in June, the Pony Express Festival brings the town together for movie nights, races dinners and more. A free fireworks show and parade even cap off the festival. The celebration celebrates Eagle Mountain's history and its connection to the Pony Express trail. Residents both attend and volunteer to make the festival a success.
Perhaps most impressively, Eagle Mountain has over 40 parks to explore. These community hubs welcome kids on hot days to play in water playgrounds, invite local basketball tournaments and of course include miles of trails for biking and walking. This abundance of green space allows the town to host ample community sports programs for both children and adults. Outdoor enthusiasts can also explore Turtle Hill and the Jack Rabbit Trail for a day out with the family or dog.
Though this sprawling city has yet to feature much of a downtown, nearby accessibility to exciting neighborhoods in American Fork and Saratoga Springs provide plenty of restaurants, shopping plazas and entertainment opportunities.
Working in Eagle Mountain
A growing town means that more and more businesses will welcome employees over the next several years. Between 2016 and 2017, the Eagle Mountain economy saw over a 2% increase in jobs throughout town. Architecture and engineering jobs are popular in the area as well as tech-related positions. Real estate companies also seek administrative, sales and management employees, speaking to the focus on the growing community.
Other top employers in Eagle Mountain are in the health industry as well as in the local school system. As more businesses make their home in Eagle Mountain, the call for local employees will increase.
Additionally, living within driving distance to Salt Lake City provides plenty of opportunities to work with one of the city's startups or large corporations that call the area home.
Going to School in Eagle Mountain
The Alpine School System serves the children of the area. From kindergarten to high school, Eagle Mountain schools include traditionally public as well as charter opportunities. The Ranches Academy, for example, is rated one of the best elementary charter schools in the county. Rockwell Charter High School, though not yet receiving high ratings, serves nearly 500 students in the are between grades 7 and 12. A selection of Eagle Mountain public schools weaves their way through town, making them more accessible to all residents in the area.
If you're looking to move to Eagle Mountain, Utah, it's an exciting time to join the community. With its population and business opportunities growing each year, residents become a part of the developing culture. Need help with your move? With services throughout Utah, Davis and Salt Lake Counties, our experienced team at Wasatch Moving Company can make your relocation to Eagle Mountain smooth and stress-free. Give us a call today to hear more about our packing services as well as everything we can do to help your residential or office move.