Living in Salt Lake City is becoming an increasingly popular choice for people around the country. With its welcoming culture, arts-focused city center, LGBTQ-friendly scene and access to some of today's more quickly growing industries, every penny is worth the move. With so much acclaim, how much does it cost to live in Salt Lake City? Young professionals and large families alike are often surprised by Salt Lake City's low rent prices and generally affordable cost of living compared to other similarly sized cities.
As the largest cultural and economic hub in Utah, however, there are some more costly categories to consider. Home prices in Salt Lake City are on the rise, for example, and public transportation costs are in line with some of the country's most popular spots. The cost of living in Salt Lake City can be balanced by a rising average income as well, making this a great spot to move as you take the next step in life.
Below, we will explore the average cost of living in Salt Lake City, UT in 2018 and how each category tips the scales in either direction. Overall, Salt Lake City living is a great opportunity to tap into a growing city that continues to expand.
Salt Lake City Rent Prices
According to Rent Jungle, rent prices in Salt Lake City have dropped throughout the past year. One-bedroom apartments in Salt Lake City offer rent prices around $1047 a month, below the national average. This is particularly surprising seeing that Salt Lake is a popular place for young people to settle down earlier in life. The largest percentage of age groups living in Salt Lake City is between 25 and 34 years old. Over half the population in the city rents homes and apartments compared to those that purchase.
As is the case of any large city, rent prices closer to the center of town tend to be higher, whereas plenty of affordable Salt Lake City apartments extend to the outskirts of the city. Rental options range from modern homes to luxury apartment complexes. Since there are also a great abundance of colleges and universities in Salt Lake City, its low rents make it a great transition city for recent graduates.
Average Cost of Groceries in Salt Lake City
Determining your average monthly food cost in Salt Lake City can have a large effect on your overall budget. Grocery shopping is a necessary expense and metropolitan areas have the tendency to inflate grocery store costs for convenience.
Compared to many cities of a similar size, Salt Lake CIty's average cost of groceries is nearly in line or only just above other city's rates. A gallon of milk, for example, is $2.60 on average, while a loaf of bread is about $2.24. These lower ranges keep your grocery bill manageable from month to month. Livability ranked Salt Lake City as one of the more adorable cities in Utah, especially when compared to other cities of its size like Shreveport, Louisiana. Certain grocery items like bottles of wine are more expensive than these cities however, averaging around $15 a bottle.
Average Electric Bill in Salt Lake City
Monthly costs such as utilities and Salt Lake City taxes are often missed in the initial budgeting. According to Numbeo, the average Salt Lake City cost of electricity, heating water and garbage averages around $131 a month. This is a bit higher than nearby cities such as Denver, CO. Additional utilities such as internet are also in line with the national average, at about $60 a month.
Recent tax bills, however, are said to start cutting Salt Lake City electrical bills in the form of tax credits. The Utah Division of Public Utilities is expected 2018 customers to see about a 3.45 percent drop in their overall monthly bill. State income taxes, however are expected to rise in the next year, adding about $96 a year on an average salary.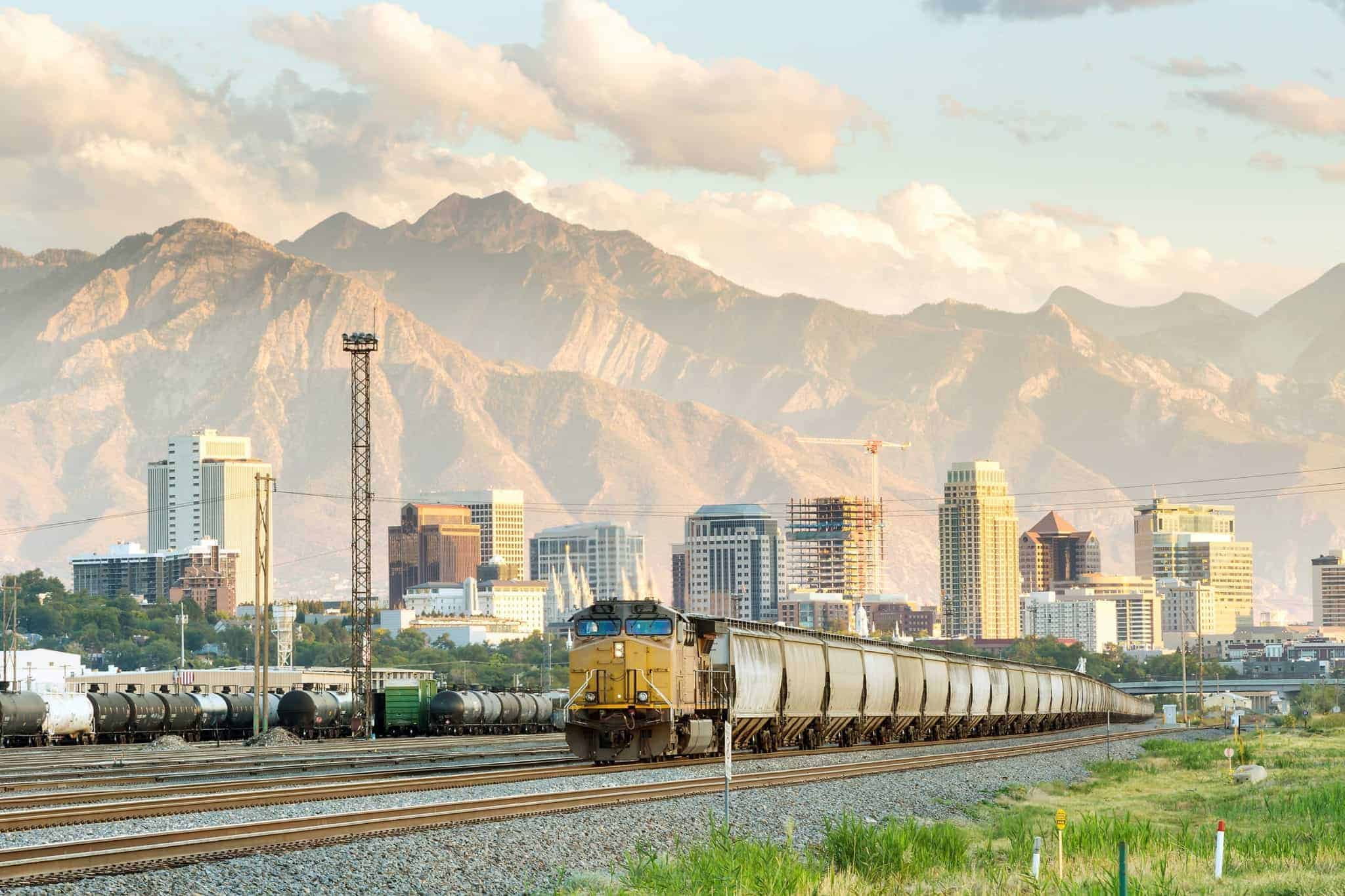 Average Household Income In Salt Lake City
The average Salt Lake City income is on the upswing. Up nearly seven percent from last year, the 2018 median household income in Salt Lake City is at $50,353. With lower rent prices all around, this makes the city an affordable place to live for students and those just starting in their career. This median income however, is still below the national average, so the area still has some ways to go. Median incomes tend to run higher throughout the rest of the county and the state itself, implying some of the most well-paid workers are living outside the city.
The two largest categories of jobs in Salt Lake City spread throughout education and management in business, science and the arts, with the largest group in some form of administration. Education is the largest industry in the city, making this a middle-class educated city.
Average Price of a Home in Salt Lake City
With 48 percent of the city choosing to buy homes in Salt Lake City, the market is projected to grow over the next several years. As of October 2018, Zillow reported the average cost of a home in Salt Lake City at $382,100, which is higher than the overall Salt Lake Metro area. Downtown Salt Lake City home prices have the highest price tags whereas neighborhoods like Poplar Grove are much lower, around $158k. Overall home prices in Salt Lake City have significantly grown in since 2012 as the city's opportunities, cultural reputation and a movement toward mid-size cities continues to grow.
Living Expenses in Salt Lake City
One of the biggest deciding factors of whether you should move to a city is its daily living expenses. How much are transportation costs in Salt Lake City, for example? Or how much does it take to go out for a dinner with friends? Go down your personal monthly budget list to determine which factors determine your monthly living expenses for your lifestyle.
Public transportation is a huge part of Salt Lake City's downtown infrastructure in and outside the city. Buses, trains and a light-rail system allows commuters to move about the city and take weekend trips to local ski resorts and airports. A one-way ticket will cost about $2.50, with monthly passes around $83 on average. If you're more of a driver, the cost of gas in Salt Lake City is a bit lower than neighboring cities and only a bit higher than the national average.
When considering a night out in Salt Lake City, the cost of dinner for two people comes out to about $50 for three courses. Bars are also much less expensive than cities like San Francisco as well as important daily staples like coffee and bottled water. This level of affordability places all the city has to offer a bit more within reach.
The average cost of living in Salt Lake City should play a major role in your decision to move to Salt Lake City. Compared to other small and mid-sized cities, many find that the level of opportunity compared to the average monthly costs is well worth the relocation. Though median income is still on the rise, the comparatively low rent makes this an excellent time to check out everything Salt Lake City has to offer.