Are you ready to begin the adventure of building your dream home? You may have been dreaming of this moment for years, dreaming of possibilities, floor plans, finishes, and exactly how your home will look. Maybe you're just frustrated with the limited options available from master-planned communities and existing homes and you're finally ready for a home with every detail built to your tastes and lifestyle.
Building a home can be an exciting adventure – but it can also be stressful and overwhelming. You probably have a lot of questions, starting with the cost. How much does it cost to build a house in Salt Lake City? It depends a great deal on where you want to build, whether you want a luxury home, and whether you want a custom or semi-custom home. In SLC, lots tend to be smaller and more expensive than areas like Tooele. However, the average cost per SF to build a house in Salt Lake City is $126 for basic construction of a custom home. The average cost to build a single-family home in Utah is about $290,000.
Depending on the finishes and materials, you can potentially enjoy a custom home in Salt Lake for about the same price as a new home in a master-planned community!
To help you get started making your dream home a reality, here are some of the best Salt Lake City home builders ranging from affordable builders to luxury builders.
Magleby Construction – Salt Lake City New Home Builders & NAHB Custom Builder of the Year
Magleby Construction has served the Salt Lake Valley along with Montana and Idaho. As a major construction company, Magleby Construction handles commercial community construction as well as custom estate homes and complex remodels. The firm was founded in 1974 by Paul Magleby who has earned the Lifetime Achievement award from the Utah Home Builders Association.
Magleby Construction has earned accolades as one of the leading luxury home builders in Salt Lake City. This includes the 2018 Builders Choice award from the Salt Lake Parade of Homes and the 2018 Best Custom Luxury Home from Denim & Diamonds Awards. They help from pre-construction through completion of your home.
Magleby takes a proactive approach to the pre-building phase. They can oversee all parties involved, coordinate meetings, and perform tasks like site analysis and permits. They serve as a pre-construction manager to facilitate:
Interior design
Architecture
Building
Cost management by gathering budget proposals from all parties to oversee a budget
During the construction of your new home, Magleby will serve as the project manager and site manager. They use a ClearBuild Home Delivery portal to facilitate communication between parties for a smooth, cost-effective build. Learn more about their custom home building process here.
Magleby Construction portfolio
Magleby Construction, 1291 W Center St, Lindon UT 84042 (801) 785-9998
Ezra Lee Design + Build – Award-Winning Salt Lake City Custom Home Builder & Interior Designer
Ezra Lee Design + Build is one of the top award-winning custom home builders in Salt Lake City known for its fine craftsmanship and high-end materials. Ezra Lee is a design-build firm that offers architecture, construction, and interior design under one roof.
Ezra Lee Design + Build has been named the Best of Houzz for service and design every year since 2014. They have also been honored with Judge's Choice, People's Choice, Best Architecture, and Best Interior awards by the Utah Valley Parade of Homes (UVHBA).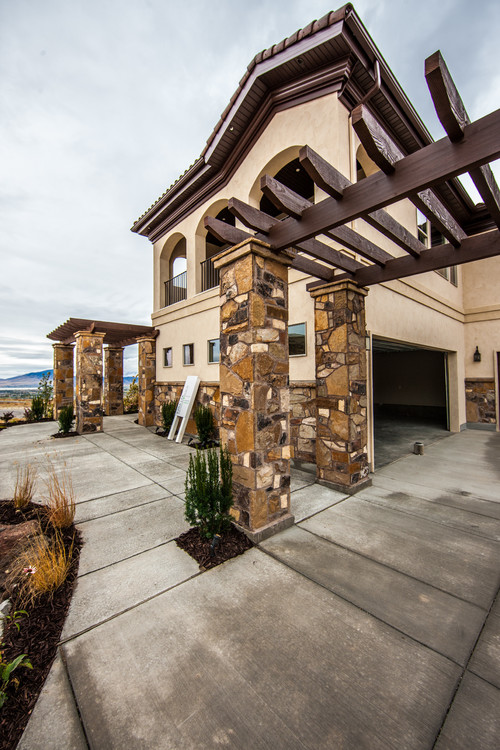 Your experience with Ezra Lee begins with a team of architects who can help you design your dream home using the best materials, sustainable practices, and the latest technology. ELD+B will then oversee construction of your home and stay within budget to bring your vision to life. Their design team can help you finish your home with award-winning interior design and help selecting furniture and finishes to fit your lifestyle.
Ezra Lee Design + Build, 363 S Main St Suite 100, Alpine, UT 84004 (801) 448-6876
Highland Custom Homes – Top SLC Custom Home Builder for 40+ Years
View this post on Instagram
With Highland Custom Homes, you can depend on decades of combined experience building custom homes throughout Utah. Highland Custom Homes has carefully chosen leading financing, design, and interior design partners to provide the highest quality results. Their partners include Intercap Lending to help you finance your custom home, Hiatt Landscapes for professional landscape design, and Inouye Design which specializes in luxury home interior design.
Highland Custom Homes is a design-build firm. This Salt Lake City home builder will work with you on the architecture and design of your new home in the pre-construction phase then help you make it happen with a fair contract that stays within budget.
Highland Custom Homes, 395 S Main St #108, Alpine, UT 84004 (801) 787-5401
Sage Homes – Real Estate Developer & SLC Luxury Home Builder
Sage Homes has been one of the top-rated luxury home builders in Salt Lake City for 25 years. The firm was founded in 1999 when one of Utah's largest real estate developers invited owner Doug Jessop onto a crew to begin Rosecrest, a 25-year master planned community. The company quickly went from building fewer than 15 homes in 1999 to more than 100 homes per year now. According to Jessop, Sage Homes was founded after his years as a framing contractor which taught him what works and what doesn't and how the homebuilding process could be different to better accommodate a family's needs than existing floor plans typically offer.
View this post on Instagram
Sage Homes is committed to The Red Standard, a new standard of homebuilding they developed to deliver on their promises of quality craftsmanship, exceptional products, passion, and vision.
In addition to custom homes, Sage Home builds new homes in master planned communities in the Wasatch Front with lots available for sale. They have a selection of move-in ready homes available too.
Sage Homes, 6965 Union Park Center, Cottonwood Heights, UT 84047 (801) 550-7057
Elevation Homes – Affordable Home Builders in Utah with Semi-Custom & Custom Home Options
With Elevation Homes, you'll enjoy a homebuilding process that combines an innovative approach to design with all-inclusive services. As the winner of the 2019 Parade of Homes Builder's Choice award, Elevation Homes has a well-earned reputation for craftsmanship and premium materials. They build throughout the Wasatch Front with semi-custom and custom home options.
With one of the top Salt Lake City new home builders, you can get the perfect home for your family within your budget. Elevation Homes is one of the most affordable custom home builders in SLC with several options to fit your budget.
View this post on Instagram
See the Elevation Homes portfolio here to see examples of what they can help you achieve.
Elevation Homes, 10757 S River Front Pkwy, South Jordan, UT 84095 (801) 598-8709
Willowood Homes – Salt Lake City Custom Home Builder with a Fun, Customized Design & Build Process
Are you a stickler for details? Do you have a very specific look in mind for your custom home? Willowood Homes is your best choice. As one of the best luxury home builders in Salt Lake City, Willowood Homes has gained a reputation for its attention to detail down to every finish and nail. You'll see they care about the small things and are committed to making your home as unique as your family.
View this post on Instagram
Willowood Homes is a family-owned and operated custom home builder in SLC run by President Randy Johnson and Vice President Dayson Johnson. Randy Johnson is a second-generation home builder with over 38 years of experience building homes throughout Utah and Salt Lake counties.
With Willowood Homes, you can enjoy a home building process that's fun – just like it should be. They'll handle the logistics so you can focus on the fun parts of picking materials and approving designs. It all begins with a lifestyle interview to discuss your dreams, how you want to use your home, and what you envision for the future.
Willowood Homes doesn't just do custom homes; they are also a luxury home builder in Salt Lake City that sells spec homes in move-in ready condition as well as lots for custom homes.
Check the Willowood Homes portfolio of custom homes to see the level of care they put into every project.
Willowood Homes, 1459 Nashi Ln, Draper, UT 84020 (801) 560-1591
Map of Salt Lake City Custom Home Builders
Have you chosen from these top Salt Lake City new home builders? As you prepare for the fun of building your own home, don't forget to plan for the logistics, including listing your current home for sale and moving day when your home is finally ready. Give us a call at Wasatch Moving Company when you're ready to settle into your dream home.